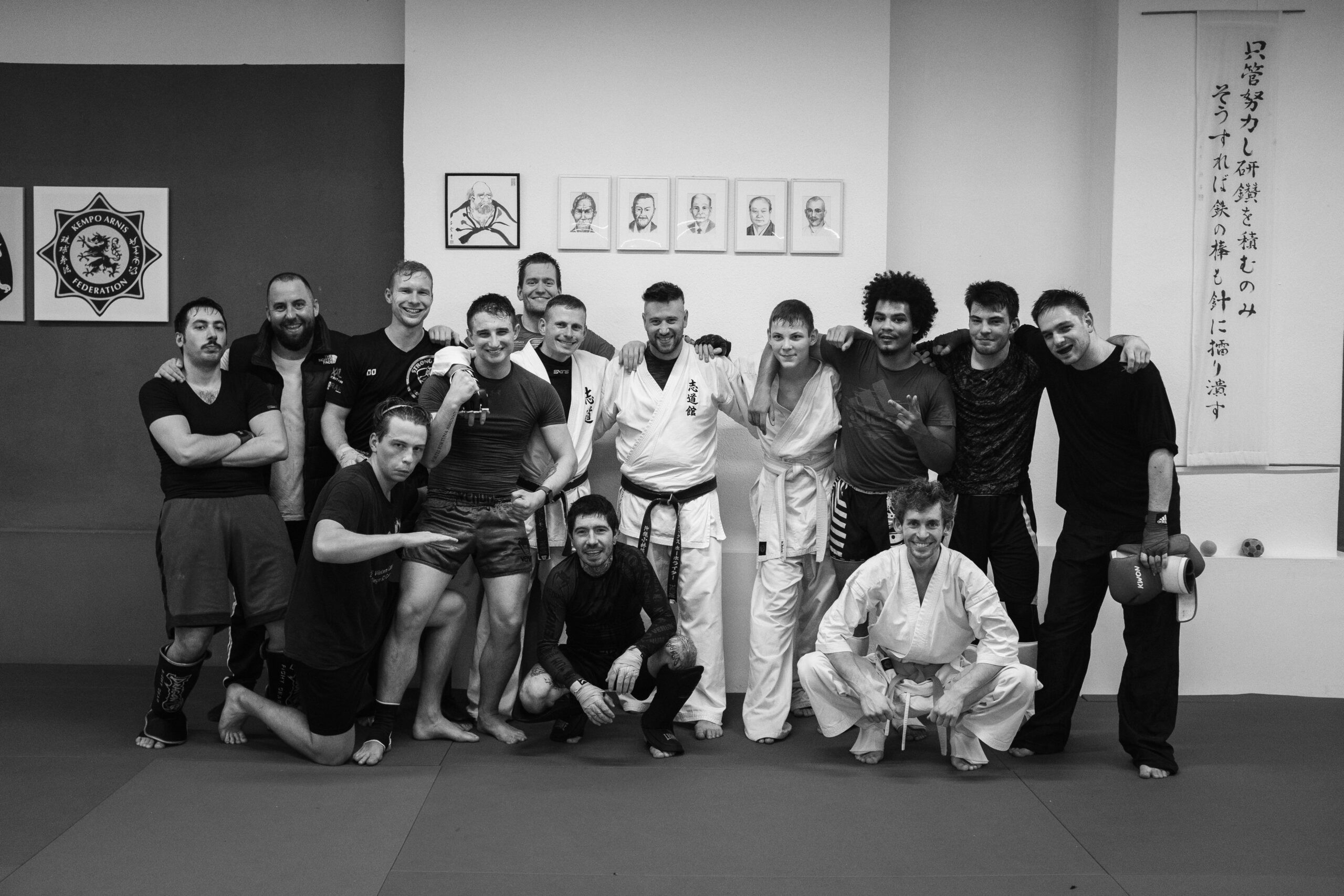 Better to be a warrior in a garden, than a gardener in a war.
Karate
Okinawa Shorin Ryu Karate ist traditionelle Kampfkunst. Der Stil verbindet die traditionellen Trainingsmethoden, die alten Katas Okinawas mit Selbstverteidigung und full contact Sparring im knock down Modus.
Trainingszeiten
Montags 18:45-20:15

Dienstags 09:00-10:00

Donnerstags 09:00-10:00

Freitags 19:30-21:00
Thaiboxen – Muay Thai
Im Thaiboxen auch Muay Thai, der alten Kampfkunst aus Thailand, kommen Boxtechniken und Tritte zum Einsatz. Im Gegensatz zum Kickboxen ebenfalls Knie-, Ellbogentechniken. Kraft, Kondition und Beweglichkeit werden trainiert. Das Training besteht aus speziellem Fitnesstraining, Sandsack und Pratzentraining und Partnerübungen.
Für das Probetraining reichen Sportsachen aus. Ansonsten gehören Bandagen, Boxhandschuhe, Schienbeinschützer, Mundschutz, Tiefschutz und Springseil zur Ausrüstung.
Trainingszeiten
Montags 20:15-21:45

Mittwochs 18:45-20:15

Freitags 18:00-19:30
Kempo Arnis – Selbstverteidigung
Kempo Arnis ist praktische Selbstverteidigung. Wir trainieren Selbstverteidugung nach dem Konzept der KAF (Kempo Arnis Federation). Ein verantwortungsbewusstes und umfassendes System der Selbstverteidigung, das für jeden Menschen geeignet, unabhängig vom Alter, Geschlecht, oder physischer Kraft.
Kempo Arnis ist eine paktische Interpretation verschiedener Kampfkünste und kombiniert Okinawa Karate, philipinisches Modern Arnis und das israelische KAPAP – KRAV MAGA.
Der Schwerpunkt liegt auf der Selbstverteidigung angesichts der vielen Verhaltensszenarien physischer Gewalt, die in der Realität auftreten können (Schläge, Tritte, Bedrohungen, Würgen etc…).
Trainingszeiten
Dienstags 18:00-19:30

Donnerstags 18:00-19:30
Kampfsport für Anfänger
In diesem Programm lernst du:
Fight stance und footwork
Basic striking Techniken und defensive mechanism

Clinching, sweeps, und

takedown

Selbstverteidigung
Leicht sparring für Combat Situation
Das Programm dauert 4 Monate von 01.09 bis 22.12.2022 und ist exklusiv für Roc 4 Mitglieder. Nach dem Anfängerkurs kannst du in jedem Kurs bei uns teilnehmen: Muay Thai, Kickboxing, Karate, und Kempo Arnis.
Trainingszeiten
Dienstags 19:30-21:00

Donnerstags 19:30-21:00

Samstags 14:30-16:00